| | |
| --- | --- |
| Posted on January 8, 2016 at 10:40 PM | |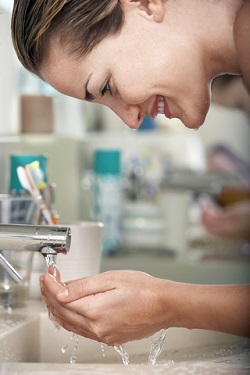 According to Skin Inc, President Barack Obama signed a U.S. Senate approved bill to ban the manufacturing of microbeads in facial scrubs. This new law will take place on July 1, 2017, begining with prohbiting the production of products that include these tiny plastic beads.

Congress believes that the microbeads cause big time pollution. Fish often mistake non-biodegradable plastic microbeads for food and eat them, resulting in toxins further up the food chain.

California has already instituted legislation to ban microbeads prior to the nationwide ban, as well as several companies planning to eliminate the microbeads in their products such as: Unilever, Procter & Gamble, Johnson & Johnson, Beiersdorf, Colgate-Palmolive and L'Oréal. 

Honestly, I can't say that I am surprised. I haven't used a cleanser or exfoliant that has contained microbeads since BEFORE I became an esthetician. After taking classes and experiencing the wonderful results of fruit and plant based skin care products, a product containing hundreds synthetic balls of plastic to exfoliate my face and body just seemed so wrong.

When I am performing a facial, my clients are always asking what that wonderful exfoliant is that I used. I have used a variety of natural exfoliants, including products containing rice, oatmeal, sea salt, etc. Never a plastic bead.

Below are a few of my favorite Skin Script RX:

Retinol 2% Exfoliating Scrub

For all skin types. This scrub exfoliates while brightening to promote a clear, healthy skin tone. Jojoba beads provide the physical exfoliation component of the product. They gently buff away dead surface debris and leave behind jojoba esters, which are a moisture retaining component of natural skin sebum. Kojic acid lightens skin discolorations, slows the production of melanin, and assists in maintaining desired skin coloration after aggressive depigmentation treatments. Retinol dissolves keratinization, resurfaces and smoothes the skin, and stimulates collagen production to improve skin quality and youthfulness. Citrus Medica Limonum (Lemon), an astringent that purifies, tones, and brightens the skin. It also promotes taught, toned skin tissue. Malic Acid (L) enhances desquamation of the stratum corneum and improves the appearance of the skin. And, Zanthoxylum Americanum (Prickly Ash) Bark Extract encourages healthy circulation and provides gentle stimulant properties to promote healthy oxygenation. It is also anti-inflammatory.

Retinol 2% Exfoliating Scrub Benefits:
Resurfaces and refines the skin
Lessens visible aging
Brightens skin discolorations
Provides chemical and physical exfoliation
Enhances cellular turnover
Assists in skin rejuvenation

Raspberry Refining Scrub Polish

Polish and energize the skin with the antioxidants raspberry and marionberry which will brighten skin and provide anti-inflammatory-like benefits to soothe skin irritations. Jojoba beads and blue corn meal gently exfoliate to remove surface build-up provides physical exfoliation while exfoliating and lightening ingredients work in tandem to promote a clear, healthy skin tone.

Raspberry Refining Scrub Benefits:

Polishes and refines the skin 
Anti-inflammatory-like benefits 
Brightens skin discolorations
So, next time you're getting a facial, whether it's from myself or another skin care professional, you should always feel comfortable to ask what the ingredients are that are in the products that they're using. A good skin care professional can at least name a few of the ingredients and the benefits of them. And if they contain microbeads, you might want to remind them that they are getting banned very soon.

(Photo by © Photographerlondon | Dreamstime.com)
Categories: news, exfoliants, Skin Script RX
/