| | |
| --- | --- |
| Posted on June 6, 2016 at 11:15 AM | |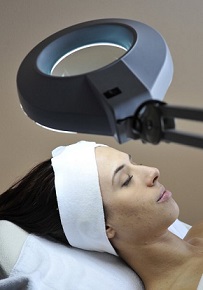 As we embark into June, one of the most common questions that I am asked as a skin care professional is, "Do facials really work?" My answer: Yes. Of course she's going to say yes, you're thinking. I mean, I want to sell my services, right? That's true, however, anyone who has come to see me at my skin care studio knows that I am not pushy with product sales or even my services. One of the main reasons that I opened my own skin care studio was so that I could create a comfortable space for my clients to receive professional skin care treatments and waxing services without having to worry about the product pushing pitches given at other waxing salons.

My point -- Yes, facials do "work." I like to break the aftermath of a facial in four seperate parts. The life cycle of a facial is as follows:

Part 1. Immediately Afterward - Your skin radiates a healthy glow.
Part 2. 48 - 72 Hours Later - Skin is hydrated as circulation has been boosted.
Part 3. 28 - 48 Days - Cells regenerate and the long-term benefits of the facial kick in.
Part 4. 4 - 6 Weeks - Time to schedule your next appointment to remove dead skin cells and rid the skin of impurities.

In addition to a variety of facials, I also offer a service called LED Therapy. Clients ask me what it is, and I chose an article from the Association of Skin Care Professionals to share with you, explaining in depth what it is and how it can help you acheive your ultimate skin care goals.

What Is LED Therapy?

By Carrie Patrick

LED therapy is a skin care treatment that uses light-emitting diodes (LEDs) of various colors, normally red, blue, and infrared, to maintain healthy skin. LEDs produce a low-powered glowing light, which is positioned to shine onto the face or other area being treated. No heat is produced by the LEDs, and it should not be confused with laser therapy.

The skin benefits of different colors of LED light have been identif ied through a broad array of studies. The most often cited study is the Whelan study, published in 2001 by NASA's Marshall Space Flight Center, which found that LED light helped speed up wound healing.

Red light is most often used for general skin improvement and to reduce the visible signs of aging. Blue light has been shown to destroy acne bacteria. Infrared light may have beneficial effects on the skin's natural supply of collagen and elastin, which are responsible for maintaining skin firmness and resilience. A series of regular treatments will provide the best results.

What Can I Expect?

No special preparation is necessary. Simply arrive to your appointment on time, relax, and enjoy the treatment. Your skin care professional will cleanse your skin and may also apply a serum or other facial products to enhance the benefits of your session, depending on your goals and the range of treatments offered.

The LED device will be positioned on your skin, or up to a few inches away. Your eyes will be covered so that the light does not bother you. Relax and rest while the glow of the LEDs bathes your skin.

Typically, no sensation is felt. Some people may feel a slight tingling, or see flashes in their vision temporarily as a result of having a light source close to their face. Keeping your eyes closed and covered during the treatment will help avo id this.

(Article and photo courtesey of Association of Skin Care Professionals)
Categories: skin, LED therapy, anti-aging
/